Market, advertise, and communicate about great events for your community members.
You can create events for your entire community, or for specific groups. Here are the steps to follow for successful events:
First, navigate to the Events section of the control panel, you can click + Event from the control panel dashboard, or go to the event section and select "+ New Event"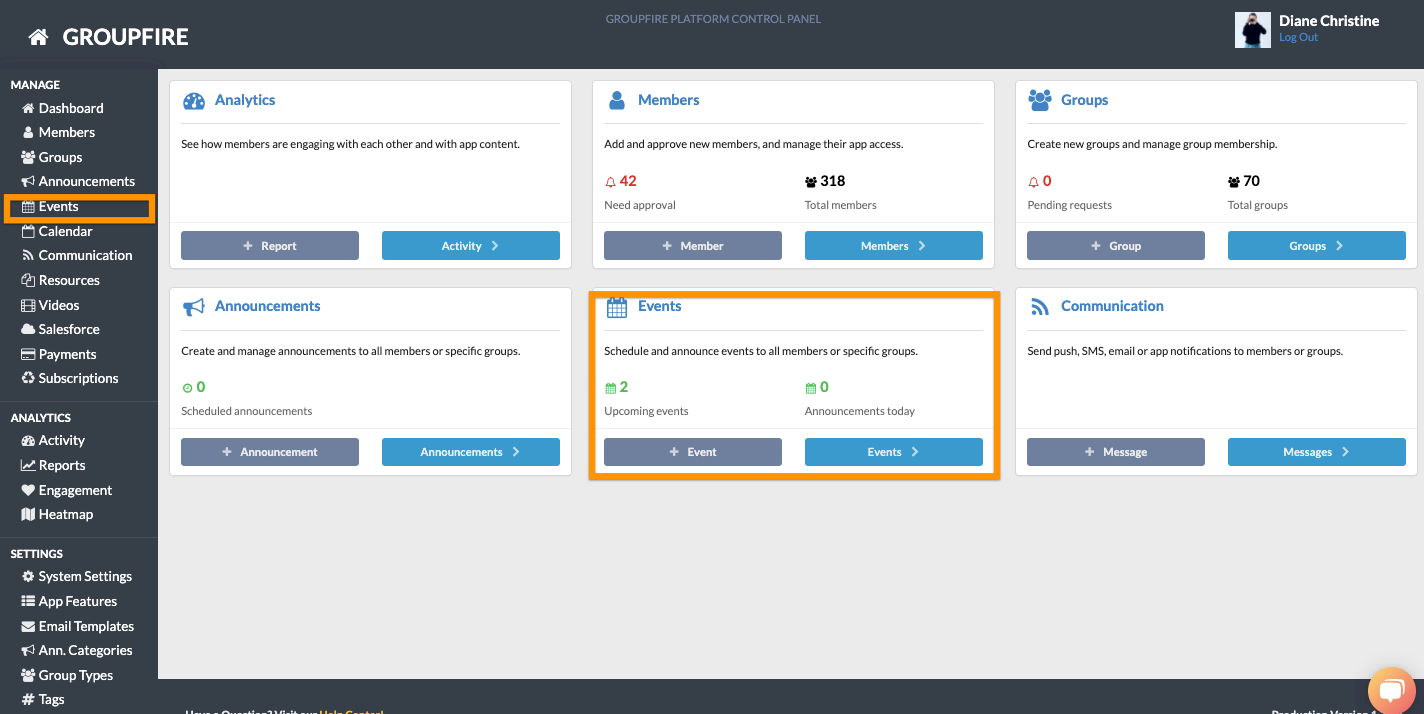 Section 1: Event Details
Title your event; super simple!
Select who is publishing the event; you can publish as yourself or publish as another member, for example an event chair.
Upload a header image, video, or GIF to make your event notification beautiful.
Next, include speaker information and links to their biography; this is a great tactic to prime your members for an event.
Indicate whether RSVPs can be collected in the app. For whatever reason if you do not want members to RSVP in their app, you can disable RSVPs here. You can also include the number of guests allowed, and set a deadline for RSVPs.
If the event allows for spouses to attend, enable that option so that members can RSVP for their spouses when they sign up.
Finally, choose to enable or disable a messaging room for your event. This is a great option to collect questions for a Q&A
Section 2: Location
GroupFire supports physical/in-person locations, as well as information for web-conferences and dial-in events. Simply click the type of event you will have, and fill in the details.

Section 3: Date and Time
This is so easy, we don't even think you need additional support in nailing it with these details!
Section 4: Announcement
Don't miss every opportunity to market your event with extra details, and bring some excitement by adding images, links, or videos. You can leverage the tools to format and organize your amazing description.
To help keep your members organized, don't forget to
And, don't forget that you can attach items--for example waivers, information sheets, or tools to make the most of your event.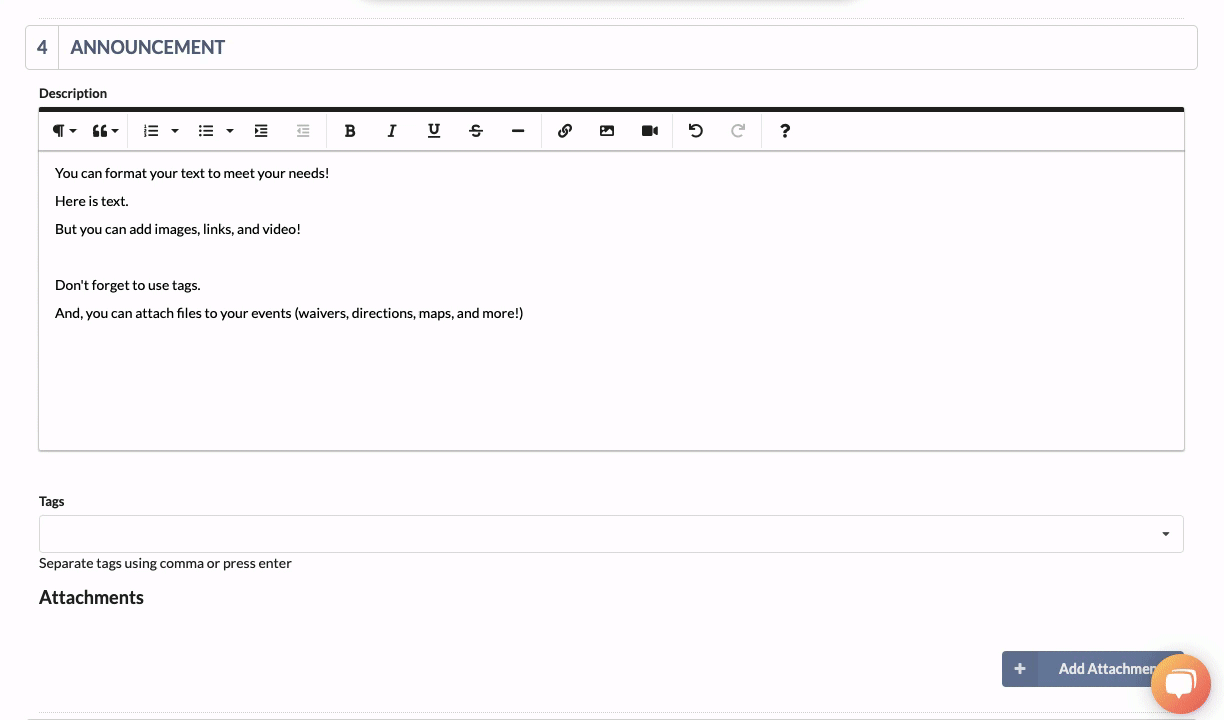 Section 5: Audience
You can market your event to all your members, or to selected groups. You can select an unlimited number of groups for any event, but only those members will be able to view or RSVP to the event.
Section 6: Announcement Details
Toggle on the option to publish your event in the Announcement Feed if you want to promote this event in the main update feed to your community. If you don't publish to the feed, members will need to independently look for events.
Next, select the members who can view the announcement, and if you want to have the event expire and be removed from the feed, you can select that as well.
Here is what it looks like: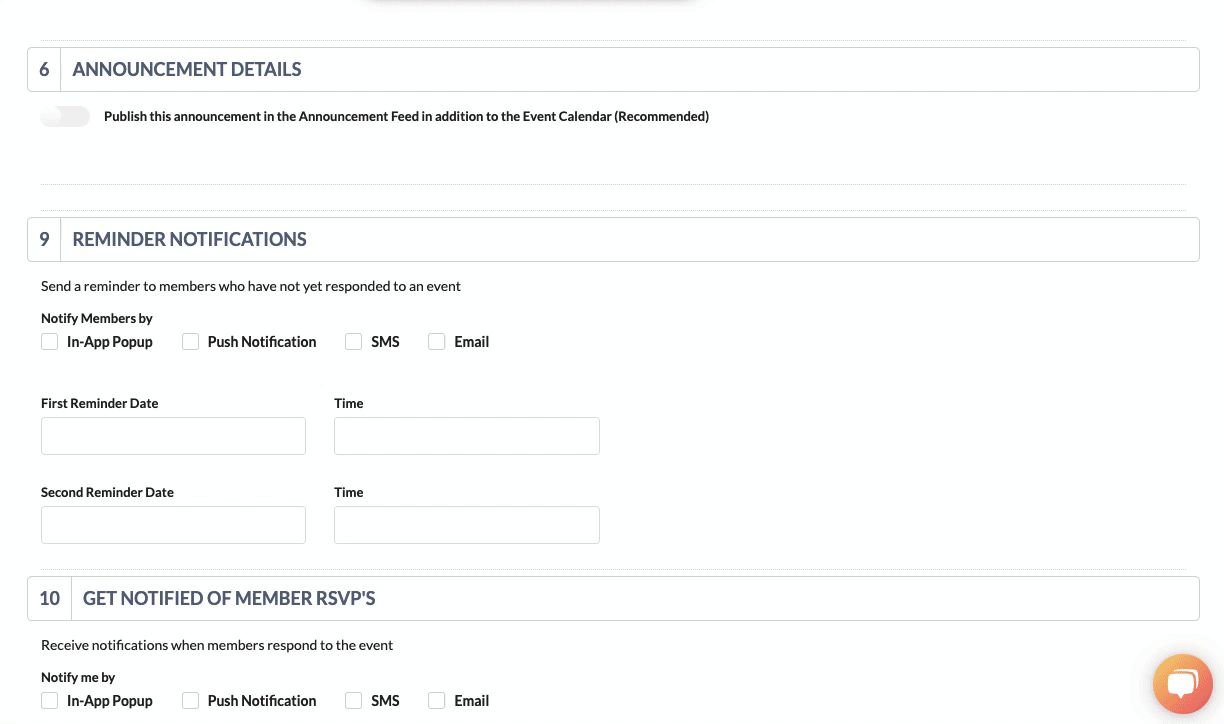 Sections 7 and 8: Schedule and Notifications
You have the option to schedule your event announcement for a future posting, or you can publish the event when you finish creating it; totally your choice.
With Notifications, you are able to deliver the announcement of the event via push notifications (only visible to members who have downloaded and installed the apps) SMS, and Email. You can make multiple selections here as well.
Sections 9 and 10: Reminder Notifications, and Notifications
Be strategic with reminder notifications to maximize attendance at your event. It is a great idea to publish early so that members can hold time, but a reminder several weeks out or in the days prior to a RSVP deadline are great ways to get a good turnout. Setting RSVP notifications will ensure that you are notified as soon as members respond to your event.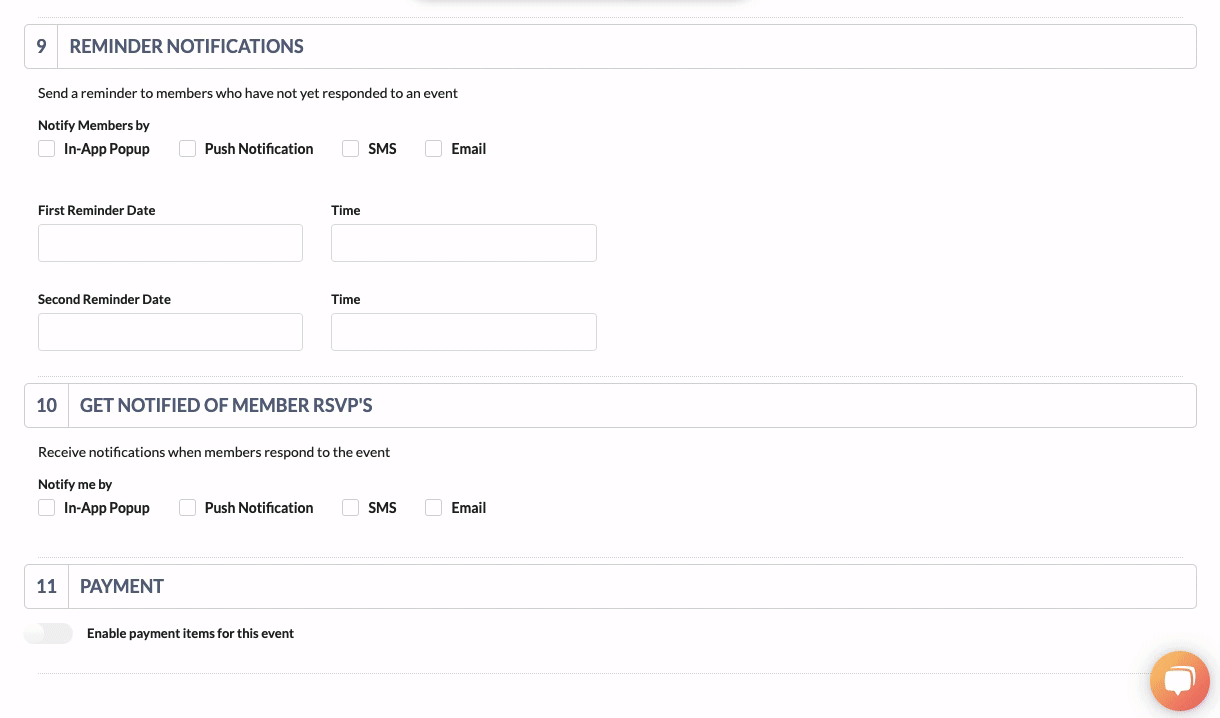 Section 11: Payment
If your event does not include tickets or payment, you can leave this section toggled off. But, if you have tickets or options with a cost for the event; enable payment and set up the options and pricing as you need.
If you select to add a processing fee, the processing fee from stripe will be included in the price for your members. If you do not, the processing fee will be deducted from the amount you receive.
You are able to include multiple options with availability if there are only a limited number of choices.
Learn more about payment in our other knowledge base articles.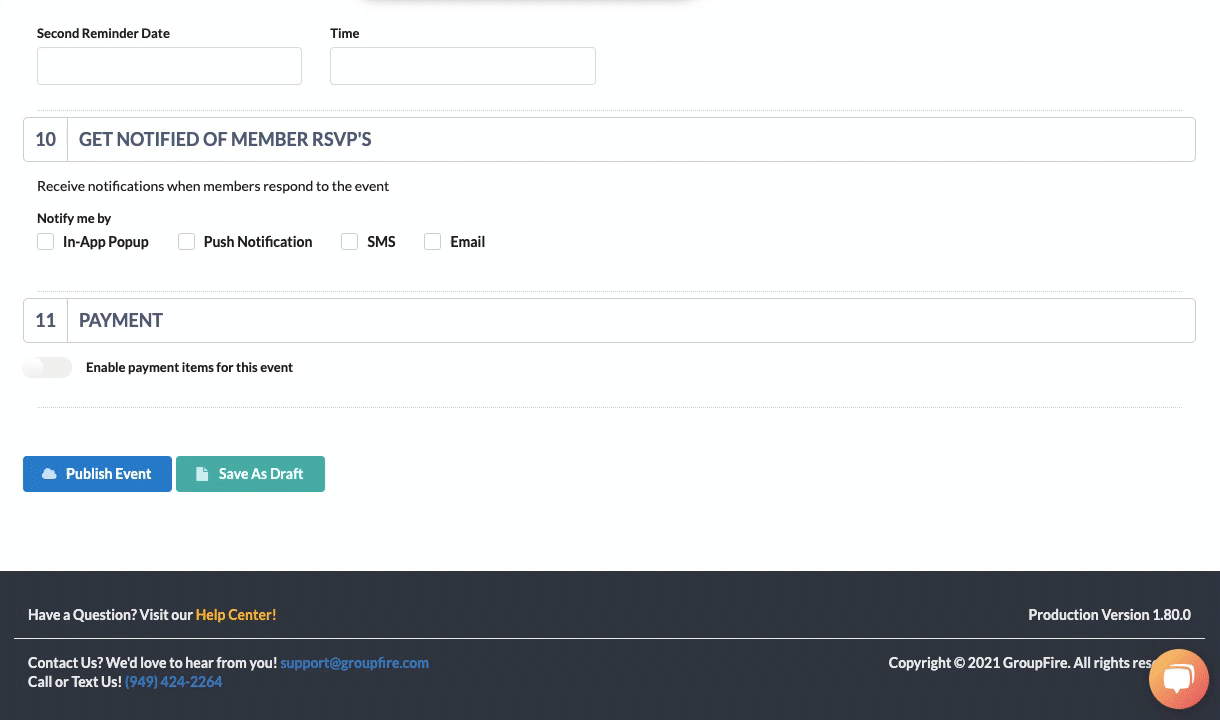 Now you are ready to Publish!
When you click publish, your announcement will be published immediately if you HAVE NOT selected a date to publish, or will publish on the date and time you selected in section 7.
If you want to see your event as a draft, you can save it as a draft before publishing--your choice.